~el gleno grande

Program Blurb
This show could make Cows Laugh.
&nbsp&nbsp&nbsp Glenn Singer was born in the year of Sputnik into the home of a rocket scientist, and subsequently raised by dwarves. No matter what humble circumstances he found himself in throughout his childhood, Glenn was never at a loss to use his inherited brain power to achieve small things in magnificent ways.

&nbsp&nbsp&nbsp Invited to leave private school on his first day in grade one, Singer embarked on a scholastic career that surprised no one. Having reached the age of consent with no convictions, Glenn decided to go into Theatre. On the way he was sidetracked by a street performance and it still shows.

&nbsp&nbsp&nbsp Having performed for over 15 years on every continent except Antarctica ("it's just a matter of time") Glenn has secured a place for himself at the very bottom of the big time with engagements at such places as Caesar's Palace in Las Vegas, Universal Studios in Hollywood, and Ed's Big Top in Hurricane.

&nbsp&nbsp&nbsp "I've always liked the circus. I loved the clowns, although I couldn't help feeling sorry for the animals. So now I put on a real live wild animal act, only funnier." This show could make cows laugh but for your convenience no livestock will be permitted at todays showing.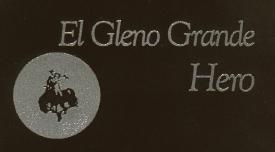 Glenn Singer is ~el gleno grande

More Photos | Home
Venues | References
Biography

Contact:
Glenn Singer
184 Feamster Road
Lewisburg, West Virginia 24901 USA

Phone 304-647-5205
Cell 540-797-1852

eMail: singer.glenn@gmail.com


&copy 2022 Glenn Singer